Country with unhappy, insecure people unsatisfied with their quality of life and social security?
+ Survey finds South Korean youth among the unhappiest in the world
+ A quarter of elderly people suffer from shame at being in care facilities
+ Survey finds that to be happy, South Koreans need to have work

#welfare_need_unsatisfied #declining_happiness #OECD #South_Korea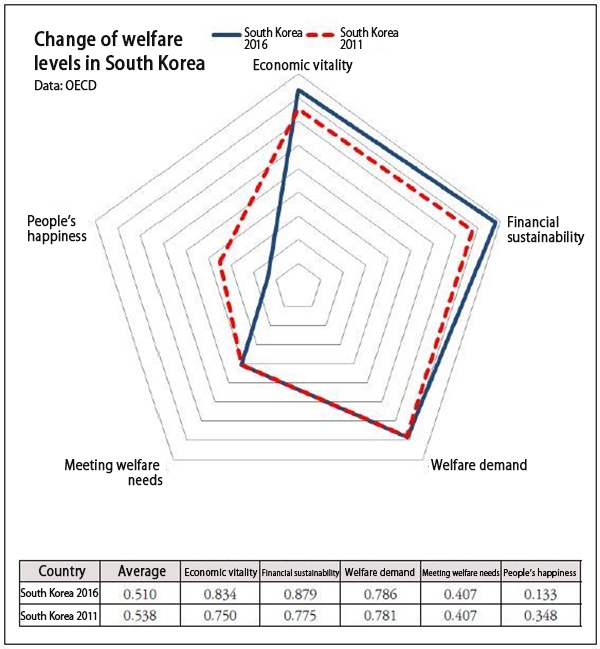 Change of welfare levels in South Korea. Data: OECD
OECD data put South Korea at or near the bottom in rankings measuring suicide and fertility rates
South Korea's overall level of welfare improved slightly over the past five years – which included Park Geun-hye's four years as president – but perceived happiness among South Koreans fell sharply, a research study shows.
The findings of a comparative study of welfare levels in OECD member countries published on Apr. 5 by the Korea Institute for Health and Social Affairs (KIHASA) showed South Korea's overall ranking rising two spots from 23 out of 34 countries in 2011 to 21 last year. But in the category of the population's happiness, it slid from 30 to 33.
For its comparison of welfare levels in OECD countries, KIHASA devised indicators for the five areas of economic vitality, welfare demand, financial sustainability, meeting welfare needs, and people's happiness. Between 2011 and 2016, South Korea's scores rose from 0.750 to 0.834 for economic vitality, 0.781 to 0.786 for welfare demand, and 0.775 to 0.879 for financial sustainability. The score for meeting welfare needs remained constant at 0.407. The only one of the five indicators to fall was people's happiness, which tumbled from 0.348 to 0.133.
The people's happiness level is a reflection of factors such as satisfaction with quality of life, transparency of the state, the suicide rate, the total fertility rate, leisure time, and anticipated lifespan from birth. It may be described as showing correspondence between the public's basic desires and the government response to them.
Among the components of the people's happiness level, South Korea's quality of life satisfaction score was 5.8, tying it with Italy in 27. The state transparency level was 26, tying with the Czech Republic at 27. South Korea's suicide rate of 28.7 per 100,000 people was the highest, while the total fertility rate of 1.21 ranked the lowest. South Korea's average of 14.7 hours of leisure time per day ranked it 25, while the anticipated lifespan from birth was 82.2 years, tying for 10 with Israel and Norway.
"While South Korea's welfare level has risen in terms of its overall ranking, it is failing to keep up with the top-ranking countries in scores that take relative position into account," KIHASA said. "In particular, there was a serious decline in the people's happiness rating, which may be seen as a more suitable assessment indicator when defining welfare level through discussions."
"Future welfare policy will need to focus on improving the individual indicators in the people's happiness index to increase the public's perceptions that they are being served by welfare," the institute said.
The top five countries examined in terms of overall ranking were all northern European countries: Norway, Denmark, Luxembourg, the Netherlands, and Iceland. The bottom-ranking group ranking 30 to 34 included Estonia, Chile, Turkey, Greece, and Mexico.By
Park Ki-yong, staff reporter
Original Article from : http://english.hani.co.kr/arti/english_edition/e_national/789612.html