South Korean companies' treatment of workforce in ASEAN countries raising concerns (Hankyoreh)
"In ASEAN countries, South Korean companies disregard health and safety regulations and churn out unstable jobs on short contracts or through illegal temp agencies. When workers take collective action or attempt to set up a union, these companies threaten them with termination or with various criminal charges,"
#SouthKoreanCompanies #labor_oppression #labor_right #노동탄압도_수출품목
Original Article from: http://english.hani.co.kr/arti/english_edition/e_international/838530.html
---
Labor groups want the Moon administration to consider workers rights as part of the New Southern Policy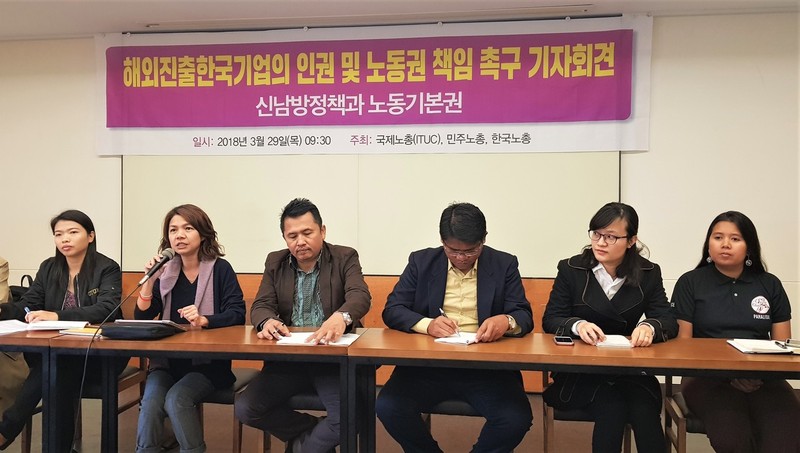 After South Korean President Moon Jae-in declared that he would create a close trading and investment relationship with the countries of ASEAN (the Association of Southeast Asian Nations) through his New Southern Policy, concerns are being raised about South Korean companies violating workers' rights in ASEAN countries.
On Mar. 29, South Korea's two national trade unions (the Korean Confederation of Trade Unions and Federation of Korean Trade Unions), the South Korean offices of the International Trade Union Confederation (ITUC), and the Friedrich Ebert Foundation held a press conference at the Francisco Building in downtown Seoul to call on the Moon administration to consider human rights issues in its New Southern Policy and to institute laws and policies that ensure that South Korean companies moving into ASEAN countries guarantee human rights and labor rights.
According to the information made public during the press conference, a large number of ASEAN workers who are working for South Korean companies face long working hours, late pay and unfair termination, but these companies' unscrupulous labor practices make it difficult to organize a union. "In ASEAN countries, South Korean companies disregard health and safety regulations and churn out unstable jobs on short contracts or through illegal temp agencies. When workers take collective action or attempt to set up a union, these companies threaten them with termination or with various criminal charges," said Monina Wong, who handles basic labor rights for the ITUC.
According to the groups at the press conference, South Korean companies that notice any signs of a union being established try to "nip it in the bud." "Early this year, South Korean clothing company Gawon Apparel had not paid wages or given the union the money withheld from workers' wages as dues for two months. When the workers went on strike because of this, all 588 of them were let go," said Pret So Uot, an attorney with the Cambodian Labour Confederation. Similarly, when workers for a South Korean sock company with a factory in Myanmar asked the company to negotiate about guaranteeing their labor rights last March, all 76 of them were fired.
Among various South Korean companies, Samsung Electronics is notorious for sticking to its "no union" policy in ASEAN countries. "When 13 employees attempted to set up a labor union at a Samsung Electronics television factory in Indonesia in 2012, the company immediately fired all of them and even sent people to their houses to intimidate them. And later when workers at a Samsung subcontractor tried to organize a union, the Samsung headquarters in South Korea notified all the company's subcontractors in Indonesia that they would lose their contracts if they created unions," said Prihanani Boenadi, vice president of the International Department for the Confederation of Indonesian Workers' Unions.
Workers rights' violations increase in tandem with South Korean investment
These examples of workers' rights violations appear to be increasing as South Korea steps up investment in ASEAN countries. "South Korea has an overwhelming lead among when it comes to the number of strikes that have occurred over the past five years at foreign companies operating in Vietnam," said Kim Tituha, who is in charge of labor rights at the Center for Development and Integration, a non-profit organization in Vietnam.
Others point out that South Korean companies exploit the fact that the rule of law is not functioning properly and that basic labor rights are not adequately guaranteed in ASEAN countries. "Even when Myanmar's labor board and arbitration committee ruled that a firing was unfair and order the company in question to reinstate the workers, it's useless. The company can get off the hook by paying a fine of about US$700," said Khaing Zar Aung, assistant general secretary for the Industrial Workers Federation of Myanmar. The conclusion reached by ASEAN labor activists is that ASEAN countries are reluctant to impose legal sanctions on scofflaw South Korean companies because those countries need South Korean investment.
The only place to which ASEAN residents working for South Korean companies can turn is the OECD National Contact Point (NCP). The NCPs, which have been set up in various countries according to the OECD Guidelines for Multinational Enterprises are supposed to deal with conflicts involving multinational enterprises by making recommendations and mediating and arbitrating complaints. The OECD enacted the NCPs in 1976 to prevent multinational enterprises from committing human rights violations. Since the South Korean NCP was established in 2000, however, only 31 cases have been officially referred to it, and not one of those has been resolved.
"Procedural transparency needs to be enhanced by adding members of labor unions and civic groups to the committee of South Korea's NCP, which is under the Ministry of Trade, Industry and Energy," advised Joanna Coronacion, an activist for SENTRO.
While companies operating overseas cannot be sanctioned under South Korean law, this does not mean that nothing can be done. "We need to set up a national action plan for companies and human rights as the UN has already recommended. Institutional changes also need to be made to cut off various kinds of support – including national pension, loans and subsidies – for companies that are implicated in harming the environment or committing human rights violations," said Jung Shin-yeong, a lawyer with Advocates for Public Interest Law (APIL).
By Lee Ji-hye, staff reporter