Widow sues National Pension Service, Suwon City over husband's death (Hankyoreh)
#conditional_beneficiary's_death #unrealistic_working_capacity_assessment #basic_livelihood_benefit #Korea
"It was the country that killed him."
"A conditional beneficiary cannot receive part or any of livelihood benefits unless he or she fulfills certain conditions for rehabilitation, such as obtaining employment."
"It is the first lawsuit holding the state accountable for the death of a social welfare beneficiary."
---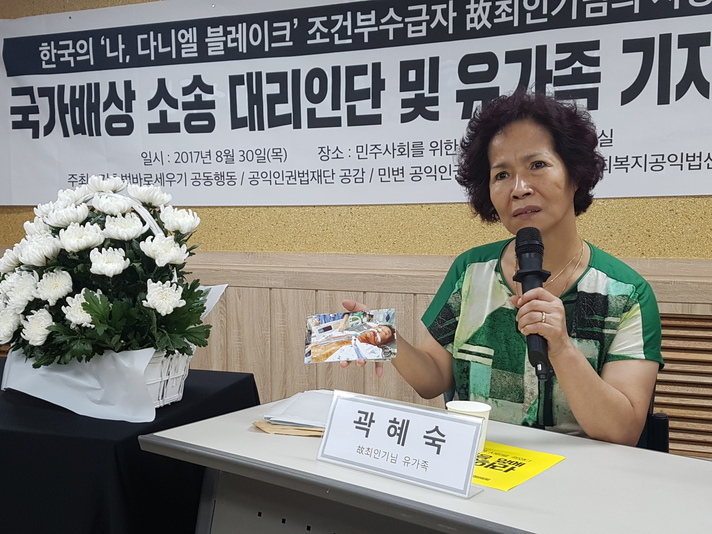 Kwak Hye-sook, the widow of Choi In-ki, holds a photo of her deceased husband while speaking at the MINBYUN office in the Seocho neighborhood of Seoul on Aug. 30. (Ko Han-sol, staff reporter)
Choi In-ki had lost his government assistance despite having a serious heart condition, in real-life Korean version of "I, Daniel Blake"
Kwak Hye-sook held up a picture of her husband. Choi In-gi, who died three years ago at the age of 60, was shown lying in critical care with several different hoses attached to him. Kwak let out a deep sigh as her tears began to flow.
"I photographed everything. Is someone in this state a human? He wasn't a human. It was the country that killed him."
Choi In-ki was an express city bus driver. After an aortic aneurysm diagnosis in 2005, he underwent two major operations in 2008 to have the blood vessels around his heart replaced with artificial ones. An aortic aneurysm is a serious condition in which blood vessels could fatally swell and burst at any moment. Left unable to work, Choi was selected as a basic livelihood benefit recipient and received support for living and hospital expenses.
But in 2013, the National Pension Service (NPS), which conducts assessments on the ability to work, concluded that Choi was capable of working. That October, Bundang Seoul National University Hospital diagnosed him as corresponding to stages 3–4 in a four-stage assessment of working capabilities – but NPS re-rated him as a 1, indicating the most favorable state. The city of Suwon, where Choi lived, accepted the conclusion and declared him a "conditional beneficiary."
A conditional beneficiary cannot receive part or any of livelihood benefits unless he or she fulfills certain conditions for rehabilitation, such as obtaining employment. In June 2014, Choi was finally forced to find work as part of the cleanup crew at an apartment complex. Three months later, he collapsed in an underground parking garage; two months after that, he passed away.
On Aug. 28, the third anniversary of Choi's death, his widow Kwak joined the MINBYUN-Lawyers for a Democratic Society Public Interest Human Rights Legal Defense Center in filing suit against NPS and the city of Suwon.
Kwak Hye-sook (second from right) holds a press conference with MINBYUN representatives at a press conference in the group's office on Aug. 30 to discuss her husband's death. The case has drawn parallels to the film, "I, Daniel Blake." (Ko Han-sol, staff reporter)
During an Aug. 30 press conference at MINBYUN's office in Seoul's Seocho neighborhood, the group referred to Choi's death as "the result of unrealistic working capability assessments." MINBYUN said it was the first lawsuit holding the state accountable for the death of a social welfare beneficiary.
Kwak and the group described Choi's death as a Korean version of I, Daniel Blake, a film by director Ken Loach about a man who is forced to find work to meet conditions for benefit payment like Choi. In the film, the character dies while his case is being reheard by a public institution.
By Ko Han-sol, staff reporter
Original article from: http://english.hani.co.kr/arti/english_edition/e_national/809123.html