Semiconductor workers' seek acknowledgement of industrial accident status
#Banollim #Industrial_Accident #Samsung #worker's_health
"In August, the Supreme Court sided with the plaintiff in a case filed by a former Samsung Electronics worker demanding industrial accident acknowledgment for their multiple sclerosis. Citing the principle of "relieving the burden of proof," the court overturned an earlier court decision to dismiss the case on the grounds that the correlation between the worker's duties and the illness was inadequately proven."
Original Article from : http://english.hani.co.kr/arti/english_edition/e_national/817039.html
---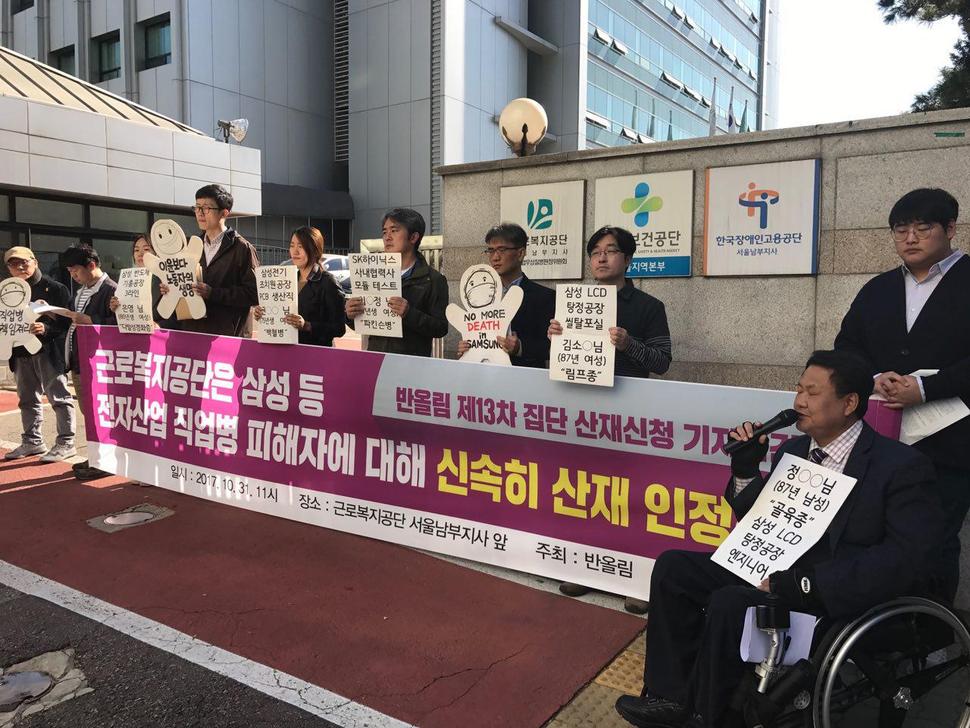 The semiconductor worker health and human rights watchdog group Banollim holds a press conference on Oct. 31 at the southern Seoul branch of the Korea Workers' Compensation and Welfare Service (K-Comwel) to urge the agency to "quickly acknowledge industrial accident status for workers suffering occupational diseases in the electronics industry." (provided by Banollim)
Employees in the industry became sick with a variety of illness including leukemia and multiple sclerosis
Seven people who contracted leukemia, lymphoma, multiple sclerosis, and other conditions during or after working for South Korean semiconductor manufacturers, including Samsung Electronics and SK Hynix, applied for acknowledgment of industrial accident status on Oct. 31.
The semiconductor worker health and human rights watchdog group Banollim held a press conference the same day at the southern Seoul branch of the Korea Workers' Compensation and Welfare Service (K-Comwel) to urge the agency to "quickly acknowledge industrial accident status for workers suffering occupational diseases in the electronics industry."
Banollim's request for acknowledgment was the 13th since the group began filing collective requests for leukemia cases at Samsung Electronics employees in Apr. 2008. As of Oct. 31, the group had applied for collective industrial accident acknowledgment for 94 people, but only 22 received it. Of the 393 semiconductor-related occupational disease sufferers reported to Banollim over the past ten years, 144 have already passed away.
In the past, K-Comwel has been reluctant to grant industrial accident acknowledgment, citing a lack of evidence of exposure to carcinogens or clear medical causes for the conditions – effectively placing the burden of proof on the victims. In contrast, Banollim has demanded that industrial accident acknowledgment standards be immediately revised in line with a recent Supreme Court decision, and insisted that acknowledgment be granted in cases of repeated instances of occupational diseases without a long investigation and review process.
In August, the Supreme Court sided with the plaintiff in a case filed by a former Samsung Electronics worker demanding industrial accident acknowledgment for their multiple sclerosis. Citing the principle of "relieving the burden of proof," the court overturned an earlier court decision to dismiss the case on the grounds that the correlation between the worker's duties and the illness was inadequately proven. Attention is now turning to the administration as it weighs a changing in policy amid recent court decisions taking a more stance on industrial accident acknowledgment.
By Cho Il-jun, staff reporter