[Reportage] The human toll of an era that uses the impoverished as disposable commodities(hankyoreh)
"Foreign nationals accounted for nine of the 195 people who died without surviving family or friends at Incheon Medical Center between 2001 and 2017. Their deaths offer a glimpse at an era where the world takes advantage of cheap labor by impoverished people. The global migrations of workers, fragmenting of national identity, and relationship between death and a life of poverty are faintly visible in the last marks these people left on the world when they passed away."
#Globalization #migration #labor
Original Article from https://bit.ly/2HS45St
---
Migrant workers sacrifice for a society they will never truly become a part of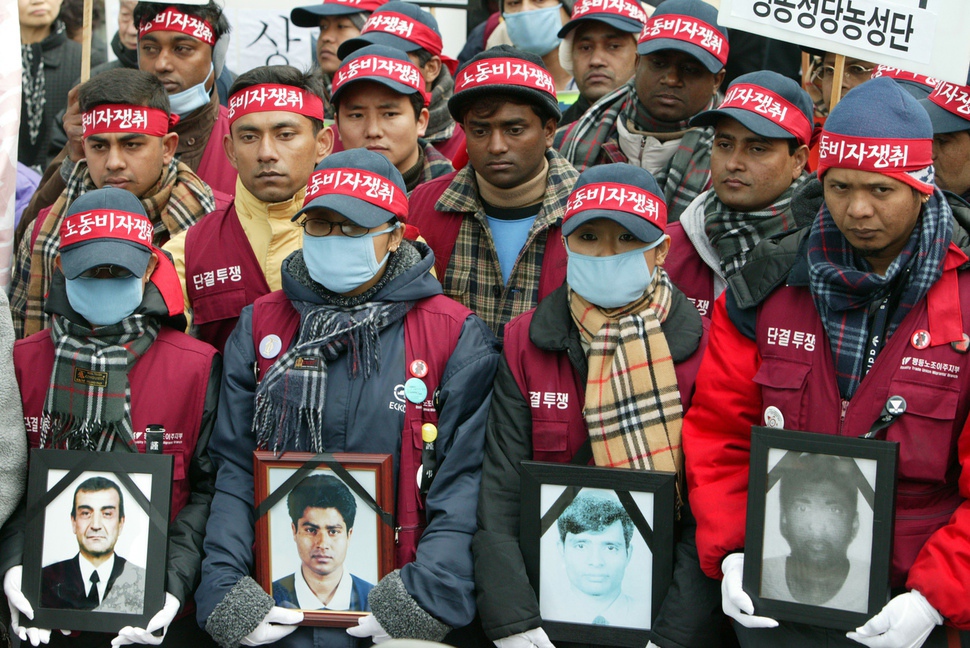 Migrant workers gather in front of Jongno Tower in Seoul on World Migrant Workers' Day, Dec. 18, 2003, to commemorate those killed during the government's forced deportation crackdown that year. At the far left is a photo of Burkhon, an Uzbek man who died in 2003. (by Kim Jin-su, staff photographer)
Foreign nationals accounted for nine of the 195 people who died without surviving family or friends at Incheon Medical Center between 2001 and 2017. Their deaths offer a glimpse at an era where the world takes advantage of cheap labor by impoverished people. The global migrations of workers, fragmenting of national identity, and relationship between death and a life of poverty are faintly visible in the last marks these people left on the world when they passed away. For the first time, the Hankyoreh is giving voices to the people who put food on our tables, operate our factories, and sustain our day-to-day lives – without ever becoming "one of us."
My name is Burkhon
I, an Uzbek man who died in 2003 at the age of 50, died on the "outside" from the rest of you. Unable to cross over among you while I was alive, I was forced to roam the outside even after I died, unable to come to rest in your city.Do spirits make a sound? A dog was loudly barking off to one corner of the darkening lumber factory in the Songhyeon neighborhood of Incheon's Dong (East) district. While I was alive, I was always treated with wariness. I was rejected, policed, hunted. Even after I passed away, I flinched and shrank each time the city growled.
I am the abused
The factory boss came out of the container box office to quiet the dog. Fifteen years have passed, but the boss – now 46 – is still younger than I was when I died. That winter [in 2003], I had come to the lumber factory because I did not know where else to go. Having lost my job in a strange city, the only place I could turn was the factory where my nephew worked.
I was driven out when the South Korean government launched a large-scale crackdown [tracking down and expelling unregistered migrant workers during the adoption of an employment permit system in place of the "industry trainee system" that had been criticized as a "slave training system" since its 1993 implementation]. No sooner had they announced that employers would also be punished for the illegal hiring of foreign nationals than the company [not the lumber factory] forced me to pack my bags. Four months after arriving that July on a tourist visa, I had lost my place of residence and become a fugitive.
The boss opened the door to a bathroom fashioned from a container box. Now as old as the number of years since my passing [the lumber factory relocated to its current location a few months after Burkhon's death], it seemed about to crumble in its old age the way I had crumbled similarly. The factory was still there, but it was not the same. Lumber was sparse in the factory yard. There were no after-hours volumes, no overtime work. I could not see any non-Korean workers; only a few of the Korean workers were older than I was at the time [all 60 years or older].
The hunting dog followed the scent. Whenever I trembled in fear of being hunted down for being an illegal alien, I heard the sound of barking. Sometimes the noise of the city and the muttering of people that surrounded me in this land whose language I did not speak sounded like a wild beast hidden in the forest. I came to South Korea at the age of 50 after giving US$5,000 to a broker in Samarkand [a city in central Uzbekistan]. If I returned without paying back my debt, my family and I would have no present, let alone a future. Carrying my luggage, I visited the factories where my Uzbek friends were working, but I was unable to find any work for myself.
When I returned to this factory a week after they rejected my application for work, my nephew's friend reminded me of what the factory boss had said: "We can't use illegal aliens right now. I can't even let them into the factory dormitory."
I was not allowed "inside," and it was so cold "outside." Even worse, it was frightening. I told my nephew's friend I would go back to Uzbekistan the next day and then turned to go. The time-worn door to the bathroom creaked every time it moved, as if marked by memories from 15 years ago. There was an acrid smell in the bathroom from the gas emitted by a heater left on to keep the pipes from bursting. Both then and now, the bathroom was too shabby to be someone's last place on earth.
After ten days of being chased from place to place [2 am on Nov. 25, 2003], I died in this bathroom. My body was found by the factory workers, hanging from a rope I had attached to the bathroom door. A crumpled plane ticket that I had been fidgeting with for several days turned up in my crumpled clothing.
I was the fourth person to kill himself around the time of the crackdown. The other three were already waiting for me in the spirit world. Darka, a 31-year-old Sri Lankan man, threw himself onto the train tracks on Nov. 11 out of despair for no longer being able to send money to cover his ailing mother's medical bills.Bikku, a 34-year-old Bangladeshi man, hung himself on Nov. 12. Still owing 4 million won (US$3,700) of the 10 million won (US$9,300) loan he had taken out when he came to South Korea with his younger sibling, he decided it would be better to die in South Korea. Andrei, a 37-year-old Russian man, jumped into the sea on a ship bound for Vladivostok that he had been placed aboard after being apprehended in the crackdown.
My poor family could not afford to bring me home. With the help of some Koreans, including Yang Hye-u, then-director of the Korea Migrant Human Rights Center, who had been granted power of attorney by fax, my body was embalmed by students doing a practicum for a degree in mortuary science and loaded in the cargo container of a plane. Ten days into the crackdown, the government announced its "progress": 1,233 people rounded up and 606 people deported. Two days after my funeral, it launched a second round of the crackdown on Dec. 8.
After coming out of the bathroom, the boss looked up at the red sky. I didn't die in this bathroom because I resented him for not giving me work. There was just nowhere else where I could die. In the words of the boss, this was a time when "immigration agents were sweeping every factory and rounding up foreigners every day." After I died, my nephew and his colleagues all left the factory. The boss, who must think of me every time he goes into that bathroom, might even miss that time "when business was going pretty well." Since I hung myself in the bathroom, I have decayed along with the door, but I'm still unable to go inside the factory.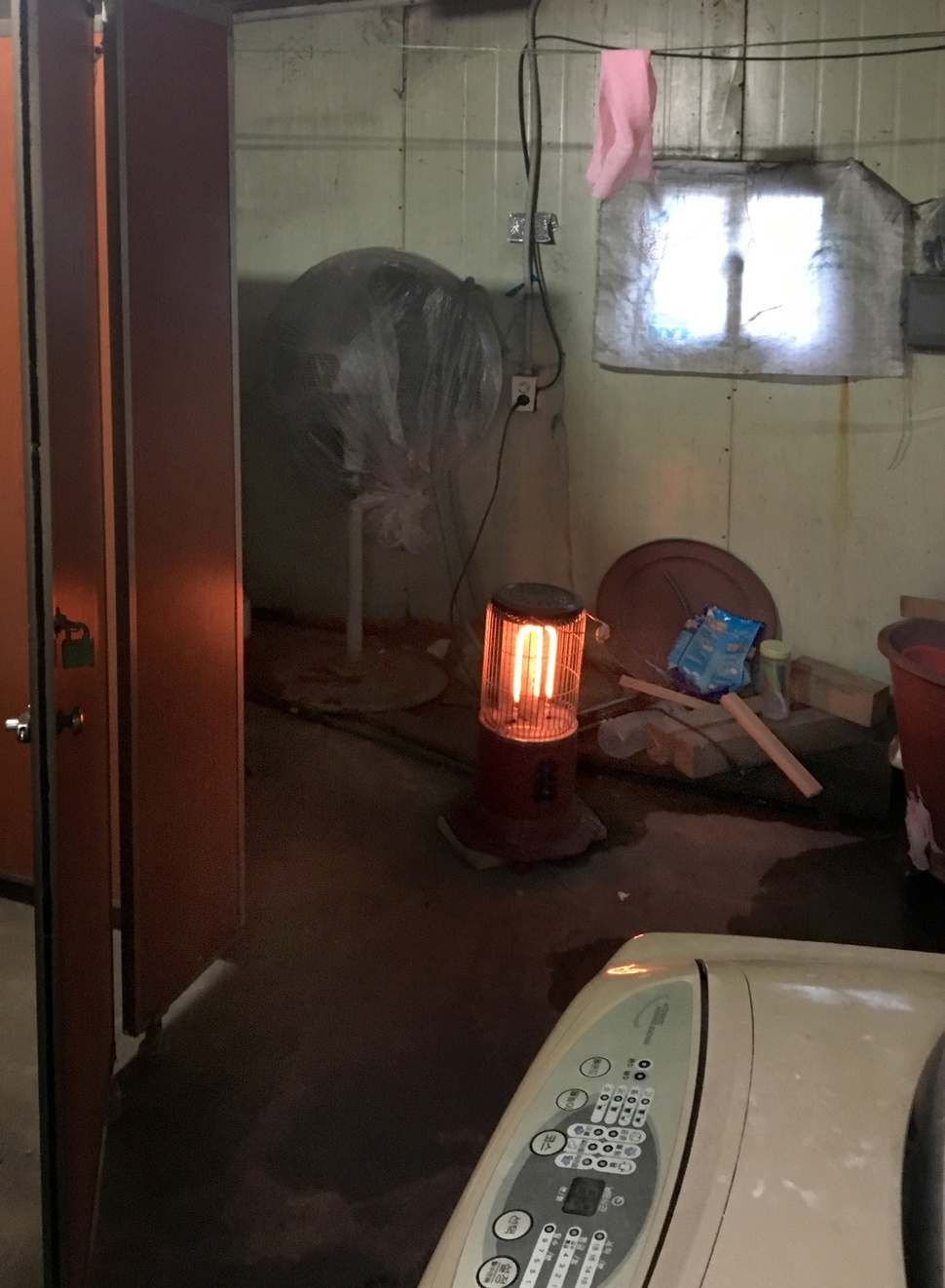 A bathroom inside the Incheon lumber factory where Burkhon killed himself in 2003. Although 15 years have passed, the appearance remains the same. (by Lee Moon-young, staff reporter)
Am I a person or a thing?
An ambulance took me, a 38-year-old ethnic Korean from China, who died in March 2003, from a factory 2.2km away from the rusted bathroom to an emergency room for respiratory paralysis and hypoxic brain injury. Born in a village of ethnic Koreans in the city of Shenyang, in China's Liaoning Province, I worked at a factory in the Dohwa neighborhood of the Nam (South) District next to an elevated highway in this city. The company boss cut off contact with me without paying my hospital bills, saying that times were tough. A foreman at the factory ducked responsibility, too, claiming he couldn't do anything because he hadn't heard from the boss.
I'm a person, but I was "imported" like a product. And once I lost my utility, I was disregarded like a useless thing. My older brother didn't have the money to pay for my internment. Since he was illiterate, a friend filled out the form on his behalf, promising to pay the hospital bill later, when he got the money. It wasn't until a month after I died that I was sent to the crematorium.
I was one of nine foreigners who have died in this city without any next of kin. Foreigners accounted for nine of 195 people who died without any connections at the Incheon Metropolitan City Medical Center between 2001 and 2017.
I had been told that this city that was organized according to the needs of the powerful countries that forced Korea to open up two centuries before was called Incheon. Japan, Qing China, the US, the UK, Germany, Russia and France set up international settlements there.
Now when I die alone in this city, I am either a descendant of those who settled there at that time (two overseas Taiwanese, one Chinese national), a person with a Korean identity who came to the motherland only to be treated as a foreigner (one ethnic Korean in China) or a migrant worker from a poor and weak country (one Uzbek, one Mongolian, one Nepalese, one Burmese and one Ugandan].
Why am I – a person whose manner of death speaks to the hardship of my life – always from "those countries"? Why is it only people from those countries who die as "foreigners without connections" in this city?As of the end of 2016, there were 59,103 foreigners registered as living in Incheon: 25,665 (43.4%) from China, 6,536 (11.0%) from Vietnam, 2,852 (4.8%) from the Philippines, 2,609 (4.4%) from Taiwan, 2,047 (3.4%) from Indonesia, 1,920 (3.2%) from Thailand and 1,010 (1.7%) from Bangladesh. Why am I never from the US (998, 1.6%), Japan (913, 1.5%)or the UK or Canada (272, 0.4%)?Why do they still call me a "foreign son-of-a-bitch" when I take on the hardest labor to keep the city's factories running? (12,056, or 20.3%, are in Namdong District, the location of Namdong Industrial Park; 11,627, or 19.6% are in Seo District, the location of Geomdan Industrial Park and the lumber center; and 10,933, or 18.4%, are in Bupyeong District, the location of Bupyeong Industrial Park.)
I, a 51-year-old Taiwanese national in the Chinese diaspora, died in 2011 without belonging to anything. Born in the Chinese city of Dalian, my father came to this city in 1939, at the age of 16. When his country was divided between the mainland and the island, he chose the island. His five sons and daughters were all born in South Korea and spent their entire lives there, but we all remained Taiwanese, just like our father. My ancestors had settled in this city as subjects of the treaty signatory (Qing dynasty China) more than two centuries before.With the passage of time, confusion about Chinese nationals, Taiwanese nationals and Chinese in the overseas community, some of whom had retained their original nationality and some who had naturalized, left blind spots in South Korea's laws and institutions. As the second son, I was the only one of my siblings to complete middle school. The only identity I clung to was my poverty. When I died, the only member of my family who heard the news was my older brother, and he declined to take responsibility for my body. He lived on the streets.
I, a 58-year-old overseas Chinese man with Taiwanese nationality who died in 2015, lived on the streets, too. I died surrounded by a terrible stench. This stench was an intangible wall that divided two worlds. I was taken to a hospital for hypoxic brain injury from the second basement level of the parking garage at a department store in the Gwangyo neighborhood of the Nam (South) District.I was disturbed by the fragrance of mouthwatering food wafting down from the first basement level, while the imported fragrances on the first floor were beautiful enough to conceal even the rank odor of my body. I couldn't remember why I had gone there – whether because of the hunger or the cold. I spent my life with Korean homeless people around Incheon Munhak Stadium and crawled between two cars parked at the department store to die. The cheers rising from the stadium were so loud, and the laughter filling the department store was so bright. The stench of the street on my body brought scowls to the faces of customers, which confirmed that this was a world I could not enter.
I'm an employee of the world
While I, a 40-year-old Nepalese man who died in 2011, was living on the streets in Seoul, I heard about a free restaurant (the Dandelion Noodle Shop in the Hwasu neighborhood of Dong District) from an old man named Jang and followed him to Incheon. I came to South Korea in the early 1990s to make money. As an industrial trainee, but I came down with a heart condition. After getting sick, I couldn't find any more work, nor could I return home with a disease instead of money.Every time Koreans were amazed to see this big, dark-skinned Nepalese homeless man, I grew a little bigger, and my skin became a little darker. I was lucky to lie down in a room with the help from the owner of the noodle restaurant before I became as large as a "black dinosaur." I died "with a slight smile on my face and earphones in my ears one night after I came back from seeing some friends," in the words of Seo Yeong-nam, owner of Dandelion Noodle Shop.
Instead of being loaded on a plane bound for Nepal, my body was reduced to ashes in this city. I had no home to return to. After I got sick in South Korea, lost my job and couldn't wire any money, my relatives back home whose livelihood rested on my shoulders scattered in all directions.
I died without being able to escape the yoke of cheap labor. I, a Burmese man who died a violent death in 2013, joined the crew of a South Korean ship at the age of 60. Seven months later, my dead body was brought back to dry land. I, a 28-year-old Mongolian man, died in a traffic accident on the street in front of a vocational school [in 2013] and was sent to my younger sibling who worked in Paju, in Gyeonggi Province.I have been employed in all countries for cheap wages. South Korea, a major destination of migrant workers, has long opened its doors to migrant workers from around the world. My death occurred during that process, and my homeless life was "globalized" on that road. ("Since 2010, the number of foreigners visiting the noodle shop has greatly increased and their nationalities have also become more varied, including Chile, Brazil and India," said Seo Yeong-nam.)
I have continued to die. Filled with despair over Burkhon's death, I went to Myeongdong Cathedral with other migrant workers and held a sit-in there for 380 days (Nov. 15, 2003, to Nov. 28, 2004), but there was no end to the dying. I fell to my death when trying to jump to the roof of the next building to escape immigration agents. I died along with Nur Fuad, an Indonesian, when a fire broke out at a foreigner detention center in Yeosu and the staff didn't open the doors (in total, 10 Chinese, ethnic Koreans, and Uzbeks in 2007 perished in the blaze.)
As I awaited my deportation, I killed myself by shooting myself in the head 33 times with a nail gun (Nguyen Van Thanh, Vietnamese, in 2008). I was asphyxiated while cleaning up pig feces without any safety equipment (four people from Nepal, China and Thailand in 2017), and I killed myself out of despair over a system that kept me from changing jobs without my boss's consent (Keshav Shrestha, Nepalese, in 2017 – this is one of the most notorious problems with the employment permit system).In the city of Incheon, I worked in all areas of migrant labor. In the words of Kim Ki-dong, former secretary-general of the Korea Migrant Human Rights Center, "Incheon is a microcosm of the migrant situation in South Korea."In this city, I ploughed the fields (agricultural migrant labor), raised cattle (livestock migrant labor), sailed on ships (shipping crew migrant labor) and worked in factories (manufacturing migrant labor). Without my work, your tables would not be set, your cities would lack amenities and even the reproduction of your families and nation (immigrant spouses) would be in danger. Even though I sustain your daily lives, I've never been welcome in your country. There's always an unyielding line before of my feet over which I'm not allowed to cross.
I'm Burkhon.
Even after becoming a ghost, I'm still trapped outside of you.
By Lee Moon-young, staff reporter