Experts say measures to prevent smoking can also boost the economy(hankyoreh)
"while various South Korean anti-tobacco policies were having an effect, the most effective of these was increasing the price of tobacco."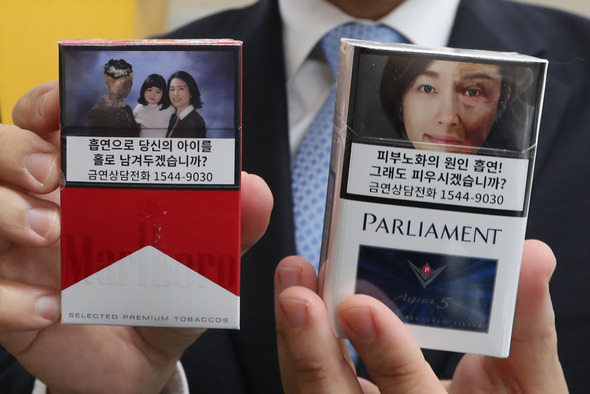 At the end of last year, cigarette packs sold in South Korea started to feature imaging warning of the dangers of smoking
Symposium participants argue that increased regulation of tobacco benefits public health of smokers and non-smokers
Experts from South Korea and other countries argue that government intervention is needed in the tobacco industry because there is insufficient information about the risks of smoking and because secondhand smoke is harmful.
An international symposium designed to assess smoking prevention policies and to seek directions for development is scheduled to take place at the InterContinental Seoul COEX in Seoul on Mar. 28. Domestic and foreign experts in the areas of tobacco and smoking prevention held a press conference at the same location on Mar. 27 at which they argued that the government needs to regulate tobacco and that such regulation would promote economic development.
"There is inadequate information, since people don't know much about the risks of smoking, and tobacco consumption has externalities that harm the health not only of smokers but also of others through secondhand smoke. Since this leads to a market failure and cannot be left to the discretion of the market, from an economic standpoint, government intervention is appropriate," argued Frank Chaloupka, a professor of economics and health policy at the University of Illinois who was the first speaker at the press conference.
"Regulation of tobacco does not have a negative effect on the economy, but it in fact has a positive effect by reducing medical costs, improving productivity and promoting economic development," Chaloupka added. He also argued that policies designed to regulate tobacco would help redress the health inequality among low income earners.
"Poor and vulnerable members of the population smoke more cigarettes, which worsens the health gap and health inequality. Regulation of tobacco also helps mitigate this," Chaloupka said. His proposals for South Korea were to keep strengthening tobacco regulations by increasing the price of tobacco and to invest more of the proceeds of the tobacco tax into the areas of preventing smoking and promoting health.
One of the South Korean experts present was Cho Seong-il, chair of the Korean Society for Research on Nicotine and Tobacco, who argued that while various South Korean anti-tobacco policies were having an effect, the most effective of these was increasing the price of tobacco.
"The biggest effect between 2015 and 2016 came from raising tobacco prices, and this accounted for 89% of the whole," Cho said, referring to the policy's effect on reducing the smoking rate. "As time goes by, the influence of raising tobacco prices will be seen in other policies."
During the symposium on Mar. 28, Katia Campos, a technical officer at the World Health Organization's Regional Office for the Western Pacific Region, will use a presentation to highlight the six globally proven methods for regulating tobacco: monitoring the use of tobacco, protecting nonsmokers from tobacco smoke, giving smokers assistance, offering warnings about the risk of smoking, banning tobacco advertising and raising taxes on tobacco.
By Kim Yang-joong, medical correspondent
Article from http://english.hani.co.kr/arti/english_edition/e_national/788348.html