Inspired by the Black Monday protests in Poland, a coalition of groups including Womad and Women's online community union have started working together on a campaign calling for people to post pictures of themselves wearing black on social media and participating in Sunday gatherings in Seoul
All organisers and participants opt to remain anonymous, not showing their face in their social media posts, shared under the hashtags #blacksunday_korea, #mybodymychoice, covering their faces. A spokeswoman for the organising groups told IBTimes UK that they fear repercussions on their personal lives. In July, game company Nexon fired voice actress Jayeon Kim because she wore a t-shirt reading "girls do not need a prince".
"This shows that we are at risk of losing our jobs just for being feminist," the spokeswoman said, adding that feminists have suffered sexual harassment, verbal abuse, and violation of privacy for demonstrating and postings pro-choice messages.
In South Korea, abortion is technically illegal. It is only allowed in case of serious illness, threats to the woman's or the foetus' life or rape, but only within the first 24 weeks. After that period, all abortions are banned. In 2012, the constitutional court voted to uphold the abortion ban that was put in place in 1953.
Yet, around 200,000 abortions are performed every year, only 5% of which are legal, highlighting the discrepancy between the widespread practice of abortion and its strict punishment under Korean law. A woman inducing an abortion through the use of drugs or other means is punishable with up to a year in jail or a KRW 2m (£1450, $1365) fine, but men are excluded from such punishment. Doctors found performing abortions face up to two years in prison.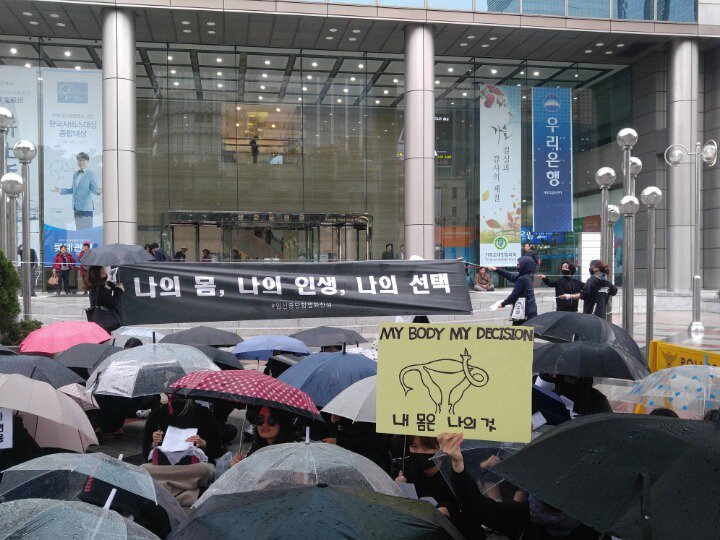 Following recent government attempts to strengthen punishment for doctors, South Korean activists decided it was time to take to the streets. "The Polish demonstration was so impressive it moved our hearts," the spokeswoman said, explaining the motivation behind the protest. The South Korean activists adopted the Polish black protests' symbol of the uterus giving the finger and the black dress code.
South Korea elected Park Geun-hye as its first female president in 2013. Asked whether having a woman in power will strengthen support for the pro-choice movement, she said: "We hope everyone will support and listen to our voice. Of course, we want Korean politicians to fight to complete abortion legalisation."
Referring to the 2017 presidential election, she added: "Young women will consider candidates' women's policies as their first priority."