Abortion ban Overturned in the Constitutional Court
Today, on April 11th 2019, abortion ban in South Korea has been ruled unconstitutional.
This is a historical victory for many Korean people, especially women, who has been fighting vigorously for decriminalization of abortion and women's reproductive right.
The court ordered that the existing law should be revised by the end of 2020.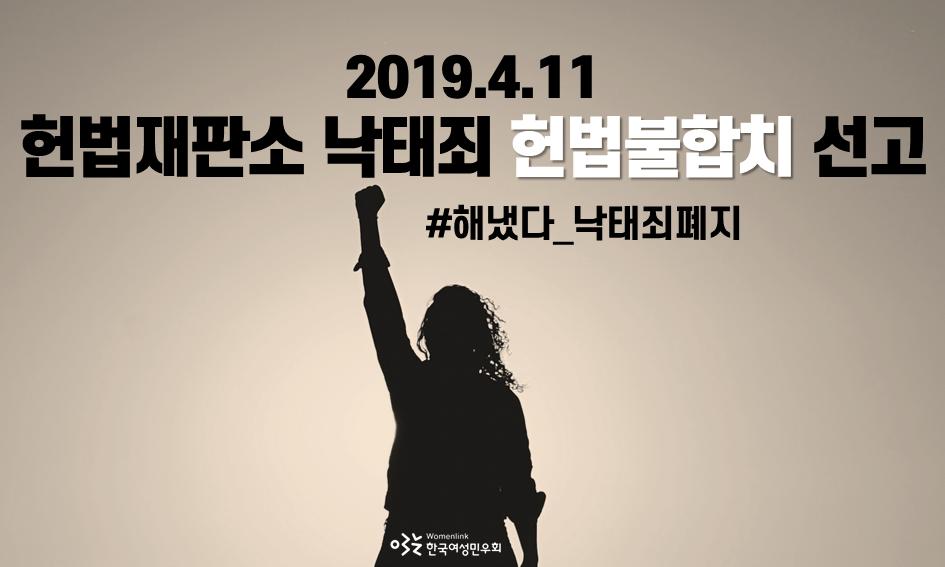 Joint Action for Reproductive Justice in South Korea, who played critical role in struggle for decriminalizing abortion, declared that we will never go back to the oppressive past, and requested administration and the legislature to ensure the sexual and reproductive right for all.
We want to celebrate this as a step forward the women's health right in South Korea, and  want to share the Korean people's struggle to abolish the abortion ban with our comrades around the world.
<Article 269 Abolition Performance of the Criminal Law made by 269 Members (2018.9.29)>
<Protest for Safe abortion, and women's health right! (2018.03.30)>
<Waiting for Verdict, the Outside the Constitutional Court (2019.04.11)>
More information on the Abortion ban and court's decision can be found on below
BBC News, "South Korea must end abortion ban by 2020, says court"
https://www.bbc.co.uk/news/world-asia-47890065
The Guardian, "South Korean court rules abortion ban must be lifted"
https://www.theguardian.com/world/2019/apr/11/south-korean-court-rules-abortion-ban-must-be-lifted
TIMES, "For 66 years, Women in South Korea Have Been Fined or Jailed for Having Abortions. That may be about to change"
http://time.com/5567300/south-korea-abortion-ban-ruling/
#Women_health #Sexual_right #Reproductive_right #Abortion #South_Korea